The Bradford County Deputy Sheriff Benevolent Association is NOT a union, it is an independent association with no national affiliations. We are comprised of Deputy Sheriffs and support personnel, both currently employed and retired. We incorporated in 2006 and have been approved by the IRS for tax deductable 501(c)(3) status, with the goals of building a financial base to foster community programs.

Our purpose and objectives are to promote professionalism, and support the efficiency of the Bradford County Sheriffs Office; influence youth, in an effort to combat delinquency; and inform citizens of problems facing law enforcement in an effort to bring about positive change; and, to encourage social, charitable and educational activities. By doing so, we hope to support the general well being of our community and assist in building a greater state of Pennsylvania.

WHY?........ After years of tossing around the idea of starting a benevolent association, we were greatly inspired by the generosity shown to us by many, many individuals and organizations after the tragic deaths of Deputy Chris Burgert and Deputy Mike Vankuren. We are hopefull that through the formation of this benevolent association, we will be able to give something back to our communities in return.

contact us to sponsor one of our pages with your name and/or link!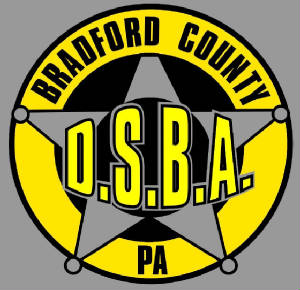 Incorporated: 2006
YOU CAN HELP US BY SENDING A DONATION TO THE D.S.B.A., c/o SHERIFF'S OFFICE, 301 MAIN ST., TOWANDA, PA 18848

We are incorporated as a non profit corporation, and organized as a charity under I.R.S. code section 501c3 and have been granted tax exempt status. All donors are entitled to take a tax deduction as allowed by law. Tax ID# available on request.
MEMORIAL BADGE PINS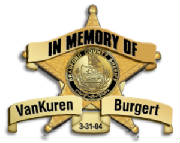 $10.00
AVAILABLE FOR PURCHASE: A 1 1/4" METAL MINI BADGE (AS SHOWN) IN SILVER OR GOLD TONE, WHILE THEY LAST!! WE ALSO HAVE T-SHIRTS WITH OUR D.S.B.A. LOGO ON LEFT CHEST FOR $12.00. FOR INFO. CALL SHERIFF'S OFFICE @ 570-265-1701
NEW !!! Challenge Coin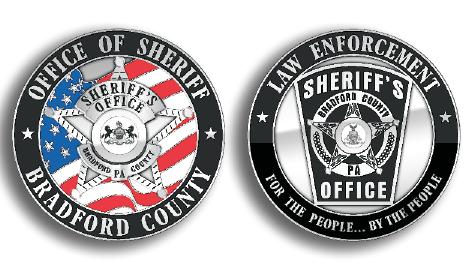 $10.00