Bradford County Deputy Sheriff Benevolent Association, Inc.
B.C.S.O. History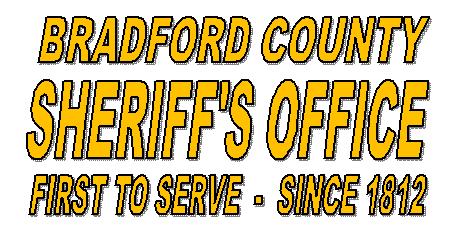 "SHERIFF'S - LAW ENFORCEMENT OF THE PEOPLE, BY THE PEOPLE, AND FOR THE PEOPLE".

1812 Abner Rockwell
1815 John Spaulding 2nd
1818 Lemuel Streeter
1821 Joseph C. Powell
1824 Reuben Wilber
1827 Benjamin McKean
1830 Lockwood Smith, Jr.
1833 John L. Webb
1836 Guy Tozer
1839 Ira H. Stephens
1842 John N. Weston
1845 John F. Means
1848 William S. Dobbins
1851 Chester Thomas
1854 John A. Cooding
1857 Thomas M. Woodruff
1860 A. Hanson Spaulding
1863 J. Monroe Smith
1866 William Griffis
1869 J. Perry Van Fleet
1872 J. Monroe Smith
1875 Andrew J. Layton
1878 Peter J. Dean
1881 William T. Horton
1884 Dallas J. Sweet
1887 Morris Shepard
1890 Joseph Powell
1893 Nathan V. Weller
1895 Ulysses M. Fell
1899 Homer F. Drake

Pennsylvania's First Female Sheriff

Mary Jane (Morrow)Mitten became the first female Sheriff in Bradford County and Pennsylvania after the death of her husband, Sheriff Fred R. Mitten in 1925.
Since she had already been helping her husband with his duties as Sheriff before his unexpected death, hundreds of Bradford County Residents signed petitions demanding she be appointed sheriff. Mary Morrow Mitten was sworn in as Sheriff on Oct. 24, 1925.

1902 Stephen Robinson
1905 Job Griffin
1908 John H. Dean
1911 Albert B. McCraney
1915 Ension W. Wheeler
1919 Charles E. Drake
1923 Fred R. Mitten
1925 *Mary Jane Mitten *
1927 Sid McClelland
1931 Howard Bailey
1935 Newman Benson
1939 J. Stewart Essenwine
1943 Roy Grover C. Jones
1947 Fowler L. Tuton
1951 Fowler L. Tuton
1955 Fowler L. Tuton
1959 Frank F. Detrick
1963 Frank F. Detrick
1967 Frank F. Detrick
1971 Frank F. Detrick
1975 Thomas J. Fairchild
1979 Thomas J. Fairchild
1983 Thomas J. Fairchild
1987 Thomas J. Fairchild
1991 Steven A. Evans
1995 Steven A. Evans
1999 Steven A. Evans
2004 Steven A. Evans
2008 Steven A. Evans

2010 Clinton "CJ" Walters
Why "Sheriff's Office" and NOT "Sheriff's Department?:
To Answer the question, we can turn to Blacks Law Dictionary which defines the term as follows: Department: One of the major divisions of the executive branch of the government....generaly, a branch or division of governmental administration. Office: a right, and correspondent duty, and power conferred on an individual by the government, and, when this is the connection, a public office is a usual and more discriminating expression...in the constitutional sense, the term implies an authority to exercise some portion of the sovereign power, either in making, executing, or administering the laws. Clearly, the Office of Sheriff is not simply another department of county government. The Offiice of Sheriff is a constitutional office having exclusive powers and authority. These powers are not subject to the dictates of a county manager or council. The powers of this office have been exercised for over a millenium.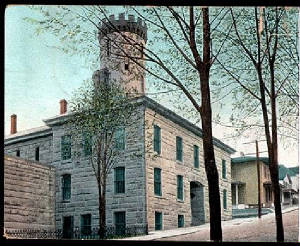 Bradford County Jail, Towanda, Pa (1873 - 1991)
Prior to the jail being built prisoners were first kept at the "old log jail" in the front section of Sheriff Rockwells home in Monroeton until the courthouse was built in 1816, they were then held in the basement of the courthouse, where deputies & jailers sometimes lived.
Construction of the jail began in 1871, and the front section of the jail was the living quarters of the Sheriff. The first Sheriff to live there was J. Monroe Smith.
In 1903, a prisoner was shot in his cell by a father seeking vengance against a man who assaulted his daughter. The father came in on visitors day and was handed a revolver by his son. The prisoner was shot twice, but survived his wounds. A grand jury later discharged the father.
Public hangings were once held in the "yard" of the jail, the last being around 1905 by Sheriff S.F. Robinson.. A modern jail was constructed in Burlington, and opened in 1991. The old jail is now home to the County Historical Society.
Bradford County Historical Society
Bradford County D.S.B.A. Incorporated: 2006